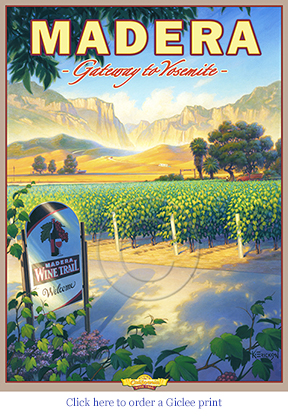 Along The California Wine Trail is a story about the American viticulture areas of California accompanied by visually stunning paintings that capture the trail's abundant bounty of beautiful scenery painted by Kerne Erickson. The eloquent and expressive narrative by author and past assistant winemaker, Jerry Stroud, compliments the artwork. Jerry explores California's most prosperous American Viticultural Areas:
North Coast AVA,
Sierra Foothills AVA
Central Coast AVA
South Coast AVA
Central Valley
Several years work has resulted in a collection of original, never before seen or exhibited paintings that capture the visual drama that takes place throughout the state.
The Grand opening at George Stern Fine Arts will be announced after the book goes to print. Have your book signed by Kerne Erickson and author, Jerry Stroud! Also meet the publisher, Greg Young, whose adoration of Erickson's art and passion for California wine has made this a reality. Please click on the link to the George Stern Gallery and provide your name and address and receive an invitation to the grand opening:
George Stern Fine Arts
(310) 276-2600
8920 Melrose Ave, West Hollywood, CA 90069
Following this opening exhibition, the show will travel to various locations along California's wine trail.
If you are in the wine hospitality industry and are interested in hosting a book signing/art exhibit paired with wine tasting, please contact Jennifer Pechette to inquire about available show dates after spring of 2017.
Jennifer Pechette, Project Manager / Editing & Design
jennpechette@gmail.com
(209) 304-2329
171 China Gulch Road, Sutter Creek, CA 95685