Article Reprinted with Permission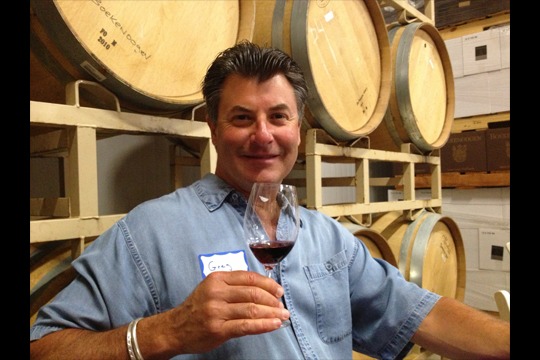 Greg Young in the Santa Lucia Highlands AVA at the Boekenoogen Winery.
Posted: Tuesday, October 31, 2017 – 11:51 AM
Greg Young Launches Book Celebrating
California's AVA Wine Regions
Greg Young, BHHS class of 1979, has spent the last six years developing a new trademark and book of the same title, Along The California Wine Trail.
"This is a story that brings awareness to the American Viticultural Areas (AVA) of California and some of the individuals who have made these areas unique to the grapes being grown and wines being made," says Young. "This is not your typical Napa wine guide, rather a book written in a narrative style that takes the reader on a journey through some of California's most important wine regions."
The 94-page book will launch with a reception from 4-8 p.m., Saturday, Nov. 4 at George Stern Fine Arts, 8920 Melrose Ave., West Hollywood.
Young started appreciating and collecting wine at 21. His passion, he says, coupled with representing retro-realist artist Kerne Erickson, was the inspiration for the book.
In 2010 after a conversation with vintner Geoff Rusack (of Rusack in Solvang), Young began researching what was being written on California's AVAs. "I discovered very little, even employees of wineries didn't know what an AVA was. (These designated U.S. wine grape-growing regions are distinguishable by geographic features with boundaries defined by the Alcohol and Tobacco Tax and the U.S. Trade Bureau of the Department of the Treasury.)
The book's five chapters go from the The Sierra Foothills AVA in the central/north of the stage to The South Coast AVA taking in Southern California and San Diego. "I wanted to publish a book, having Kerne's magnificent artwork representing our state's most prolific wine-producing AVA regions to help educate and define specific areas that produce delicious wine."
The book party will be a chance to meet author and native Californian Jerry Stroud, who Young met through gallery owner Stern. Stroud is a past wine maker for the St. Francis Winery in Sonoma who has also written screenplays that have gained the attention of Energy Entertainment and Penn Station Entertainment. "In the North Coast chapter Jerry tells the story about the Judgment of Paris award in 1976 that put California wine on the world stage," says Young. "Jerry dug up some interesting facts that have not been shared before."
Illustrator artist Erickson has created 36 paintings for the book and the gallery will showcase his acrylic paintings for sale with frames using reclaimed pine lumber from 70-100-year-old barns from the Southeastern U.S.
Wines from AVA regions visited in the book, will be available for tasting at the gallery show.
Copies of the book, at $34.95, will be available for purchase and signing. Greg Young Publishing is donating $5 for every book sold to Direct Relief to aid the victims of the Napa, Sonoma and area fires in wine country.
For more information, call 310-276-2600.
ADDITIONAL ARTICLES:
Greg Young Publishing, Inc. Wins Lawsuit Against Zazzle – see articles:
Technology & Marketing Law Blog